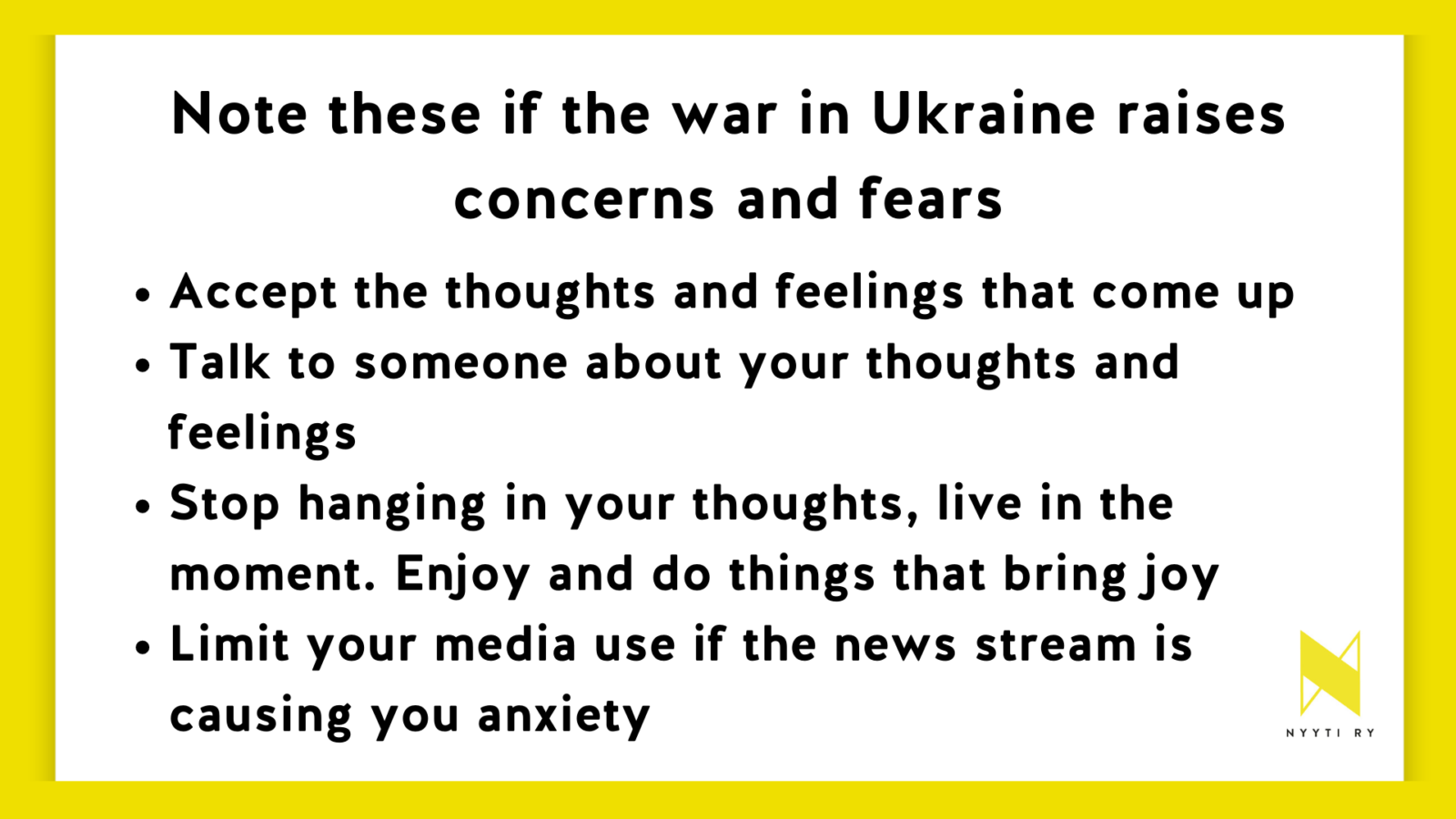 Russia invaded Ukraine on Thursday morning, February 24, 2022, and war broke out. The outbreak of war in Ukraine has affected us all and will affect us for a long time to come. It is understandable to feel different feelings, worries and fears. However, it is good to remember that the threat of war is not now concerning Finland. As the President of the Republic of Finland, Mr Sauli Niinistö, said: "Finland is up to date and will stay up to date.".
Concerns, feelings, and fears are worth addressing. They should not be pushed aside or repressed. However, it is important to remember that one should not worry too much, and one should not be ashamed of one's own feelings. If we deny our feelings, we give fear more power, which can lead to growing anxiety and panic reaction.
Concerns about the future, about oneself, and about issues larger than one's own life are signs of the awakening of a new perspective. The world around us and its events become more meaningful. One of the signs of budding adulthood is an awareness of our limitations. For the first time in our lives, we may be confronted with the limits of our abilities, skills, and time.
Note these if the war in Ukraine raises concerns and fears
Accept the thoughts and feelings that come up

Difficult feelings such as anger, disgust, fear, and pain are often difficult to accept. However, difficult feelings are just as important as positive feelings. Acceptance is a way of dealing with difficult matters. Acceptance is not giving in to fear. Feelings come and go; we can only affect their intensity.

Talk to someone about your thoughts and feelings

Speaking helps to clarify one's own thoughts and feelings, making it easier to live with feelings and being able to function better in one's daily life.
You can also address feelings by writing up your worries, fears and feelings.

Stop hanging in your thoughts, live in the moment. Enjoy and do things that bring joy

Don't worry about things you can't influence yourself. Leave the worries behind and focus on a normal everyday life. Enjoy and do things that will bring you joy! Taking care of yourself and maintaining a normal daily life with meals and outdoor activities is important even when the worries of the world are discouraging.

Limit your media use if the news stream is causing you anxiety

Agree with yourself for example that you follow the news only two times a day.

If you have children

Accept the child's feelings and experiences.

Give your child time to share their thoughts.

Let the child know that we are safe and going on with our own lives, and that adults are working to ensure that nothing bad happens or, if it happens, that it is overcome.
Do you want to discuss with someone?
Sources
Nyyti ry:
Mieli ry:
https://mieli.fi/uutiset/mita-voi-tehda-jos-puheet-sodasta-huolestuttavat/
MTV Uutiset
https://www.mtvuutiset.fi/artikkeli/pelottaako-sota-kriisiasiantuntija-kertoo-mika-auttaa-ja-mika-ei-ei-johda-mihinkaan-hyvaan/8356132#gs.q3vaq1